Breast Enlargement Villa Bella
Below you will find detailed information concerning the variety of treatments of the female breast to be conducted at VILLA BELLA.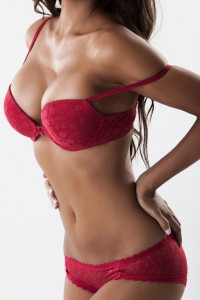 Why in the first case is a woman interested in something like this? There is of course a wide variety of reasons, however, almost always it all comes down to one single wish: in that very beautiful, sensitive and indisputably female way they want to feel attractive (again?). Let us introduce you to the most popular method to do so:
A two inch-long cut is conducted in the area of the lower breast crease. From here, an implant (nowadays mostly consisting of silicone gel) is inserted into a surgically created "pocket" either below or above the pectoralis muscle. This technique is by far the most well established, most commonly used, and at the same time most conveniently bears the lowest risk. Especially when the new contour of the breast should not be overly emphasized.
The desire of a natural and not "operated-on-looking" appearance is perfectly understandable. We will discuss all details of a potential treatment with you, and will be happy to explain the individual process of selecting your future size, form and hereby technique of enlargement.
Make your appointment easy, fast and online with us.
Make your appointment now!
Aren't you from around Munich and prefer to know first, which treatment would be best for your? Then make use of our video consultation with Dr. Meyer and get your appointment now!
| | |
| --- | --- |
| Mon: | 9 am - 8 pm |
| Tue - Thu: | 9 am - 8 pm |
| Fri: | 9 am - 6 pm |
| Sat: | 11 am - 5 pm |
* Saturday appointments on request
VILLA BELLA
Brienner Str. 14
80333 München
Anaesthesia:
General. Local with Inverted Nipples
Duration of Hospital Stay:
1 overnight stay; 2 nights in Breast Reduction; day care in Inverted Nipples
Back to work:
7 days (by the latest)